So I set this blog up almost a year ago to start tracking/writing down the things I knit and work on. Well I put off a lot of knitting over the summer. So I thought, today, I'd get back on it because I have so many items/projects I've signed up to do for people, and this way people can see when I start working on their items and track the progress I'm making and whatnot!
Plus then for my fellow knitting friends, if they see a project I'm going and want the pattern...there will be a link right here!
So, right now I am working on
this
: specifically the 12th season one. It's going to be a big project, but in all of I have mastered
color changing
and weaving in the ends as I knit, which I think is the most effective and useful thing I have learned. I should've practiced a little though. You can see in this picture the difference between the parts where I was doing it wrong, and where I figured it out (where it goes from gray to green). I'm 20% done though (there is
a little gadget
online that allows you to enter how many rows you've completed and it tells you the % and copy and paste a code to show your friends!)
Here is a photo of my progress:
Up next is the project I just finished this last week and SHOULD have posted in the mail to my lucky recipient in Santa Cruz, but I just haven't had the time to get there before they close! Boy I wish I'd learned the weaving in ends/color change trick when I made this, it would've been faster and looked a lot nicer. I'd redo the whole thing, but Jerroyd wants his scarf, and it's really soft and warm, even if there are funky bits at the beginning!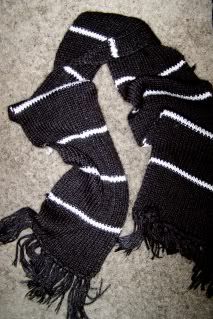 Lastly, I finished a prototype on Thursday of a project I'm working on for Kimber and her little girls. I've promised a set of five capelets and hats to her, all in pink, by December. The
pattern
is SO cute and ended up being fairly easy. I just wish I could figure out how to increase the stitches without those funky holes. I practiced a different technique on a video tutorial, and I'm hoping it solves that problem. But I'm sure even if I don't do it perfectly, I can fix it with some good blocking. The rim on the prototype I also did wrong, but I figured out how to fix it!
A list of things I need to have done by November/December:
0) Calorimetry - Matt's Cassie
1) 2 pairs fingerless gloves - Jerroyd
2) 1 pair gray fingerless gloves - Alex
3) Capelets/Hats - Kimber
4) Pink mitts with caps & slouchy twist hat - Lori (this I'm going to start after the capelets b/c I promised her the hat a WAY while back)
5) Black Gloves - Dear Jack (with sewn on leather padding!)
6) Harry Potter Elf Hat & Gauntlets - Liz
I'm actually a master knitter, and my friends picked easy patterns! Do you think I can get all this done before it gets REALLY cold? Wish me luck! :D